Custom Lowrider Bicycles and Skateboards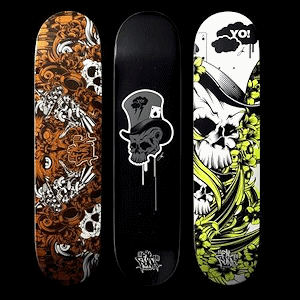 Lowrider bikes really are a thing of beauty. Each bike is custom-designed and/or adorned, and therefore are frequently designed for competition in shows. Common options that come with a minimal driver bike incorporate a lengthy, curved, blueberry chair, sissy bar, and apehanger handle bars. Characteristic touches incorporated "baby daytons", a heavily-chromed, densely-spoked radial bike wheel initially created for dragster cars, whitened wall tires, and springer forks. We take that same custom styling and apply it to skateboards and baby strollers!…the possibilities are endless!
History
Through the late 50's the car had changed the bicycle because the standard type of transportation. To retain bicycle sales, manufactures wishing to capture the imagination of teenagers who wished for motorized automobiles, started to promote "cruiser bikes"… bikes that featured motorcycle style tanks, large chrome car headlights, electric horns, and "balloon tires" (body fat 2.125″ inflatable tires that appeared as if a little version from the modern automobile tire.)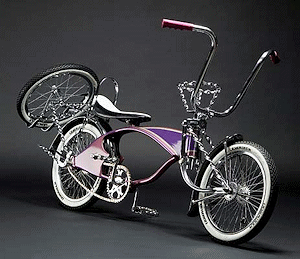 The popularity to emulate automobile and motorcycle design was taken one step further, when Al Fritz, a youthful designer for that Schwinn Bicycle Company, required notice of the west coast trend… in Southern California 'Custom King' George Barris started to personalize automobiles using highly polished chrome, and flamboyant add-ons. Kids trying to emulate the personalized drag racing cars started to trick out their bikes, by retrofitting used crusier bikes with custom parts which had dragster like touches.
In 1963, Schwinn introduced the "Sting-Ray" bicycle, full of created, easy to customize bike that featured dragster- like touches like the "ape hanger" handlebar, along with a low driver "banana chair". The "Sting-ray" bicycle grew to become typically the most popular type of bike for children throughout the 1960's and early 1970's. Probably the most famous type of Sting-Ray was the "Krate"- probably the most fooled out "Sting-Ray" ever to become created noted for it's hotrod colors, relatively small 16″ front wheel, body fat rear tire, rear shock, springer front-end and it is infamous stick- change.
Chicano Relation to The Lowrider Bicycle
In Southern California Mexican immigrants were showing their own style and creativeness by customizing their very own type of "dragster". Not able to afford the fee for designing a hot rods engine to ensure that the vehicle might be employed for drag racing, they developed their very own "slow and low" ride by cutting the cars suspension. When it grew to become illegal to possess a vehicle which was so low down, they added hydraulics towards the vehicle to ensure that it may be elevated once the police drove by, and lowered after. Trying to emulate lowrider automobiles, Chicano children started to personalize old cruiser bicycles into "Lowrider Bicycles". Such as the cars, Lowrider Bicycles were considered pieces of art… an easy method of indicating, not just a person's capability to handle something, but to produce a metal beauty which was a representation of a person's pride and individualism. The effort of lowrider contractors was designed to inspire others to complete their finest. To place their time and effort into something beautiful. These bikes may cost 1000's of dollars to construct, and 100s of dollars to show at shows and competitions.